Saint-Denis de La Réunion, 2019
---
Initiated by Rubis Mécénat (south africa) and La cité des arts (Reunion Island), "the big way" is a collective documentary project. During various residencies, the photographers tried to revive the memory of the first road to run across the city of Saint-Denis from east to west: the rue du Grand Chemin (Long Way Street). This road still exists but is now called rue du Maréchal Leclerc. With the complicity of the inhabitants, they initiated a photographic work which seek to tell the daily life of the neighbourhood through still images, audio recordings and interviews.


---
Initié par la Cité des arts de La Réunion et Rubis Mécénat (afrique du sud), "Le grand chemin" est un projet documentaire collectif. Durant plusieurs temps de résidence, une dizaine de photographes de La Réunion, d'Afrique du sud, de Madagascar et de France se sont relayés pour travailler sur une portion de route historique de La Réunion, qui traverse la ville de Saint-Denis d'est en ouest.
L'exploration urbaine n'est pas vraiment mon domaine de prédilection en photographie. J'envisage pour ce temps de résidence d'affronter un peu ce champ d'écriture, et de faire violence à mes cadrages horizontaux. Je lève la tête en permanence, en marchant le long du boulevard. J'observe maintenant les balcons et les toits. La vue est souvent, pour ne pas dire partout, obstruée par d'immondes panneaux d'affichage de 12 m2, consacrés à des produits en promotion souvent tout aussi immondes. Je connais déjà bien cette portion de la ville, et je ne découvre donc finalement rien de particulier. J'observe simplement un paysage où les délabrements, les fissures, ou verrues architecturales ne sont plus anecdotiques, mais font désormais partie de l'identité et de la substance même de ce quartier en transit permanent. Je m'attarde entre chien et loup, quand la pénombre vient masquer ses défauts, et que l'ambiance devient celle d'un polar aux décors de seconde main.
---
Urban exploration is not really my favorite field in photography. I intend for this time of residence to face a little this field of writing, and to do violence to my horizontal framing. I raise my head constantly, walking along the boulevard. I now watch the balconies and roofs. The view is often, if not everywhere, obstructed by foul billboards of 12 m2, devoted to promotional products often just as foul. I already know this part of the city well, so I do not discover anything special. I simply observe a landscape where decay, cracks, or architectural warts are no longer anecdotal, but are now part of the identity and substance of this neighborhood in permanent transit. I linger by the end of the day dog and wolf, when the darkness hides its flaws, and that the atmosphere becomes that of a second-hand set polar.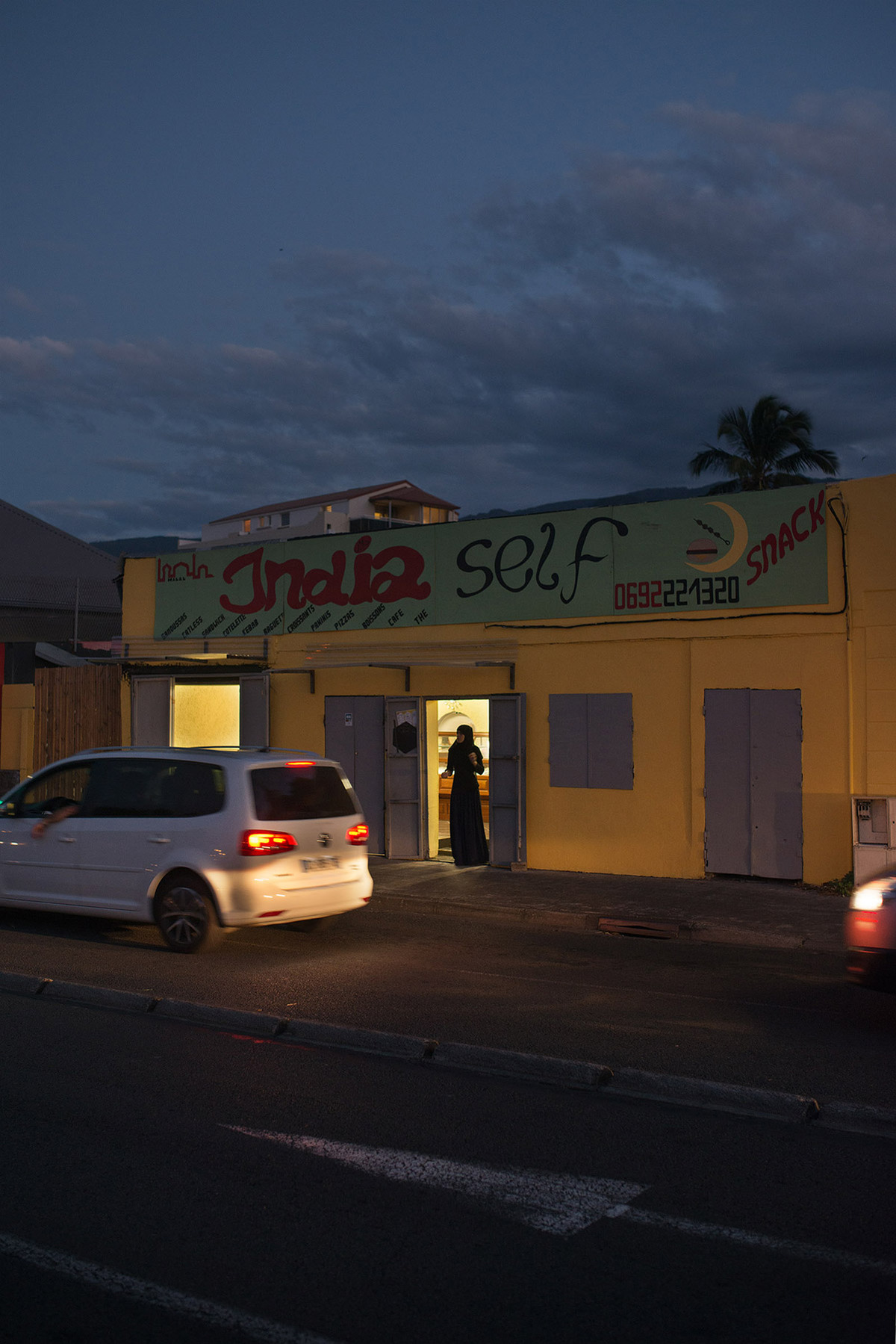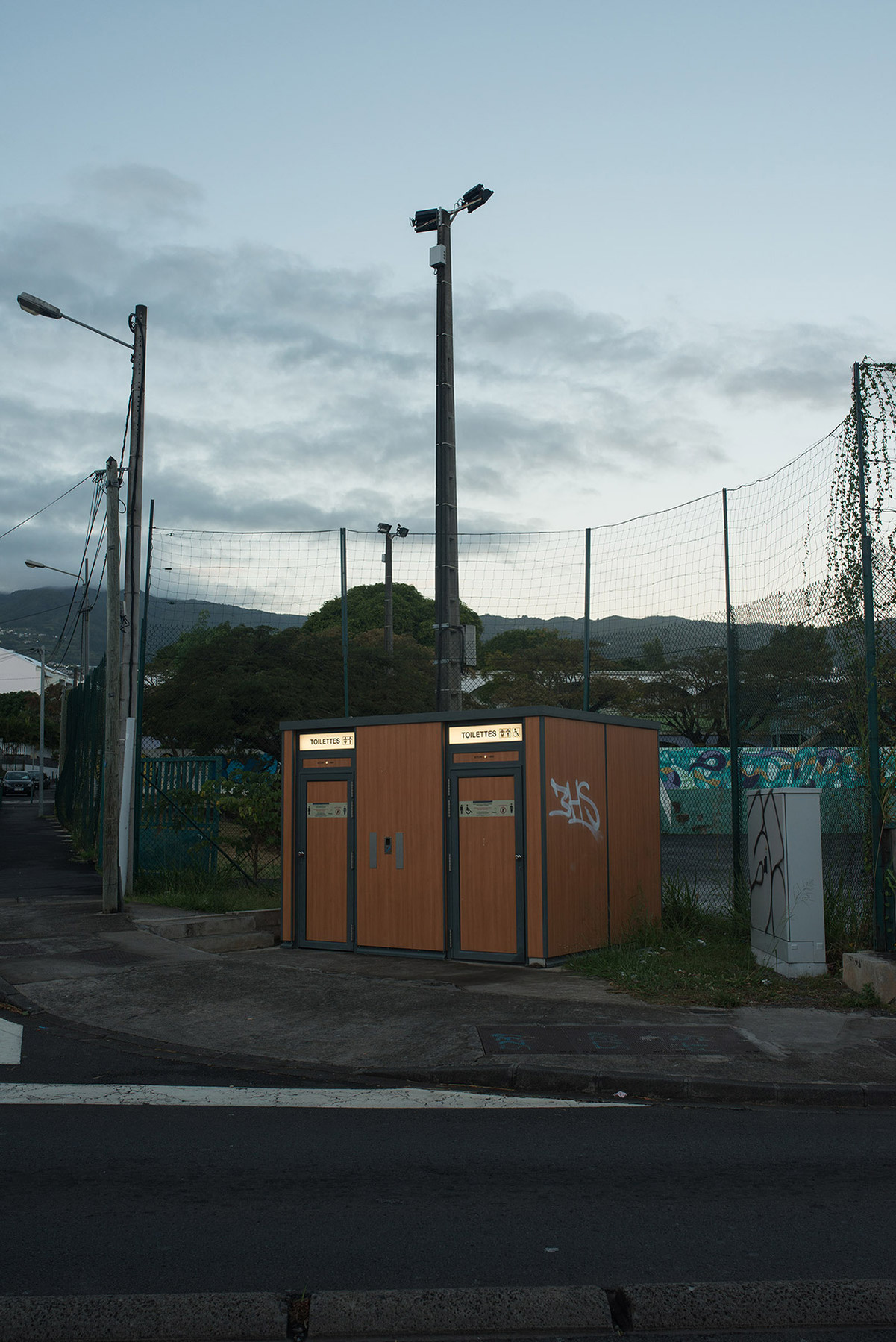 Vues de l'exposition à la Cité des Arts de Saint-Denis, en mai 2019.
---
Part of the exhibition in La cité des arts, Saint-Denis de La Réunion, may 2019.